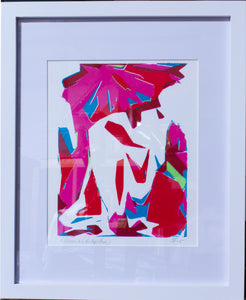 Denise Philipbar
Wagasa, 2019
4 color screen print on Rives BFK, Mat and Frame
9 x 6.5", matted to fit 10 x 8"

Edition 3/15
$135.00
___________________________
Denise Philipbar is a painter and installation artist who blends the power of nature with her understanding of science and technology. Her paintings and prints explore the formal aspects in the two dimensional plane through abstraction and process often disregarding any direct references to subject matter. Her drawings span the gamut from life drawing to exploring abstraction through line and process. Philipbar learned to paint at the Art Students League of Denver after completing a bachelors and a masters in Mathematics from the University of Colorado. She holds an MFA in Painting from the University of the Arts in Philadelphia.