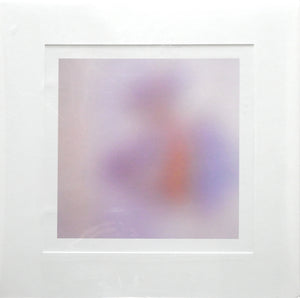 Untitled - Stuart Netsky
Archival inkjet print
12" x 12; matted 20" x 20"
Edition of 25
"I am a conceptual artist making paintings, mixed media sculptures, prints and other objects. My practice is an investigation into the inundation of imagery we are all collectively bombarded by, and how it reflects the absurdity I experience in our contemporary culture.
My work is made in distinct series, creating a crazy quilt of pictorial eclecticism that obscures our ability to make sense of the image, acting as a metaphor for the confusion and shifting dichotomies in social interactions.
Digital images speak to our technologically driven world and reflect the temporal paradox in pop culture whereby the past is brought to the present, the present to the past. I digitally appropriate art historical images with those from film and popular culture, juxtaposed with psychedelic and floral patterns and mix them all together. Francois Boucher and Gerhard Richter, Jean-Honore Fragonard, Gene Davis, Bridget Riley, Nicholas Krushenick and Jean-Antoine Watteau, among others - the rococo and abstraction, op art and pop art, anime and realism, and the psychedelic all come together, layered, spliced and distorted. I appreciate the Rococo for its extravagance and theatricality, as it appeals to my love of kitsch. Paintings, prints and sculptures, collaged with cakes, printed skate decks and fake fur create an extravagant hodge-podge of seemingly disparate imagery and materials that evoke the psychosexual.

Film imagery is another element important to my work. I grew up comforted by the classic Hollywood films and actors I reference in my work. As a gay adolescent, I escaped into film and identified with the women in what are considered "womens films". Bette Davis, Joan Crawford, Barbara Stanwyck, and femme fatales, Lana Turner, Marilyn Monroe, Rita Hayworth...idealized much like the goddesses in Rococo painting. I love them all, and sometimes view my practice as a drag display operating within this time I live in while embracing nostalgia and romanticism for their tender and universal  sensibilities."