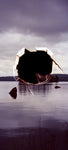 "The World is Suddener" by Tasha Doremus
Archival pigment print of a sliced negative
33" x 15"
Tasha Doremus was born in Britain to Anglo-American parents and spent her early childhood in Japan. She studied Archaeology and Ancient History at Liverpool University and worked in that field as a freelance excavator and illustrator for universities, museums and archaeological institutions in Britain, Bulgaria and Turkey. Her illustrations have been published in various textbooks and journals.'In 1993, Doremus moved to the United States and made art her vehicle for engaging in a more thorough exploration of contemporary life. She taught herself photography while doing a variety of jobs including working on a ranch in Wyoming, fighting forest fires in Oregon and Utah and pulling espressos in Seattle. Making photographs has been her mode of expression for almost 20 years: she believes that there is (even still) an inherent perception of truth in the medium.Since 2001, Doremus has been living in Philadelphia where she has been working in the photography department of the University of Pennsylvania. She was a member of Nexus, Foundation of Today's Art from 2006 to 2010. She has exhibited in Liverpool, Seattle, San Francisco, Philadelphia and Brooklyn.