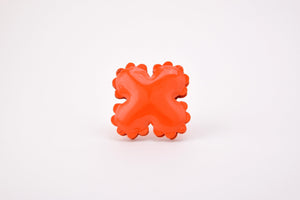 "Orange X Brooch" by Sarah Montagnoli
Copper, brass, powder coat, stainless steel double pin stem (two pin stems) brooch
2.25 x 2.25 x .75"
Sarah Montagnoli's work is created using traditional practices of hand fabrication in conjunction with technology like Water Jet Cutters to create perforated metal forms. Adding depth to her work by pillowing these forms through hydraulic pressing, she is also able to open the perforations in the metal further to create interesting portals in the objects. The voids are then filled with materials such as furs, silicones, and flocking, to add tactility and moments of comfort or pleasure to her objects. A continuing theme within her work is exploring childhood memories and memorabilia, along with concepts of pleasure and comfort through "toy" based forms.