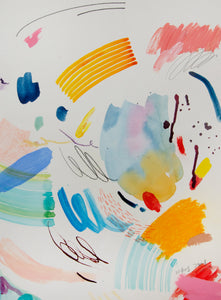 Zifeng Zang
#22, 2022
Mixed Media on Paper
11 x 14"
$110
_________________________________________
As an emerging abstract painter based in Philadelphia, I am dedicated to exploring
the intuitive sense of color and creating work inspired by the natural world and my
surroundings. My love for art began at a young age and continued to grow throughout my education, which includes dual BFA degrees from Jilin University in China and West Chester University of Pennsylvania. Although I have extensive experience as a senior graphic designer and brand manager at advertising agencies and tech giants in China, I have always been drawn to the traditional art of painting. This led me to further my education in the field and focus on developing my favorite abstract style, infused with my personal experiences and unique perspective. My work is an expression of my inner emotions and reflects my passion for exploring the interplay between color and form.