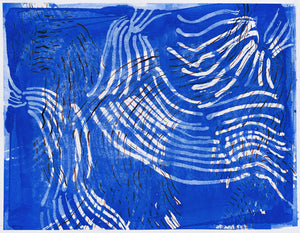 Paula Cahill
Gouache and ink on paper 
7 x 9"  
"I create linear abstract compositions that are often comprised of a single, luminous line that meanders, changes color, and seamlessly connects back to itself. As I prepare to paint, I mix up to 100 gradients of color derived from my memories of scuba diving among tropical fish on the world's coral reefs. By repeatedly laying down the colorful gradients one brushstroke at a time, I create radiant, light-filled lines that change color hundreds of times, reflecting a quality reminiscent of the bioluminescence that emanates from sea-life. My work is interactive, inviting the viewer to track a meandering, color-changing path.
I strive to push the historical conversation with line into the contemporary and elevate the integral role it has played in art, design, and the sciences since its early appearance in rock and cave drawings. Geometry, personal experience, visual semantics, and art history all inform my work. The most recent works give a nod to Diego Velazquez, Pablo Picasso, Egyptian art, and Renaissance perspective."