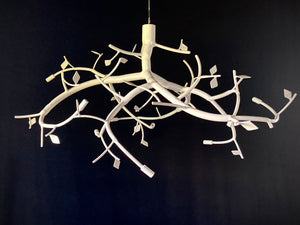 Christopher Poehlmann
New Growth Chandelier (satin white)
Aluminum with satin white paint finish, 120v e12 sockets, 5' diameter
60" x 60" x 41"
About CP Lighting
Christoper Poehlmann, creator of CP Lighting, has been making the world his own since high school where he couldn't help but customize his personal wardrobe. Distracted in his pre-med days by an introduction to and following obsession with mid-century modern furniture and design, he decisively changed course from studies and lab work to sheet metal and studio time.
Though still heavily invested in American craft furniture, lighting design is where Christopher's creativity blooms. Well known for reinterpreting tree and wood motifs through metal and plastic, he is also a master at re-purposing and reusing industrial materials that have been cast aside. The resulting conglomeration of junk and wire transforms into a body of work that blends playful levity with enchanting elegance.